Fresh Market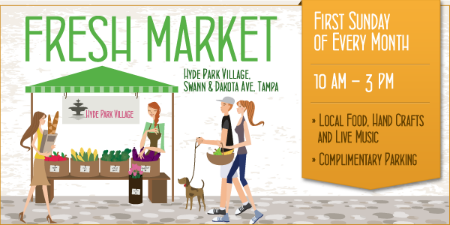 About the Hyde Park Village Fresh Market
The Hyde Park Village Fresh Market takes place at the Fountain the first Sunday of every month, year round, rain or shine, from 10 AM to 3 PM.
With space for over 100 vendors, the Hyde Park Village Fresh Market features:
Agricultural products | Fresh, Organic, Hydroponic & Conventional Produce | Plants, Herbs & Flowers | Gourmet Take Home Foods | Fresh Bread | Pasta | Honey | Spices | Ready-to-Eat Foods | Brooklyn-style Knishs | New Orleans-style Crawfish Pies | Kettle Corn | Southern Style Foods | Hand Crafts | Local Art | Handcrafted Jewelry | Accessories | Live Music | Cooking Demos | Outdoor Seating | Mini-Massages | …and more!
2013 Hyde Park Village Fresh Market Dates:
1/6/13
2/3/13
3/3/13
4/7/13
5/5/13
6/2/13
7/7/13
8/4/13
9/1/13
10/6/13
11/3/13
12/1/13
Admission and parking are free and friendly dogs on leashes are always welcome at the Fresh Market and in Hyde Park Village.
The Hyde Park Village Fresh Market is sponsored by Tampa Bay Markets, Tampa Bay Times, tbt* and Magic 94-9!
Vendor Information
Tampa Bay Markets handles all vendor booking for the Hyde Park Village Fresh Market with priority given to vendors selling local, hand made, fresh and agricultural-related products. To become a vendor, apply online at www.TampaBayMarkets.com.
Kids Market

The partnership between Fit Kids Playground and Tampa Bay Markets has opened up a new opportunity for kids in the Tampa Bay area. They see the potential for young entrepreneurs to find a sense of accomplishment in doing something they love to do.

The Hyde Park Village Kids Market will feature 10-15 kids vendors. The Kids Market will take place in the Courtyard Via Way by Downtown Dogs and Color Me Mine and will include 10-15 spaces for kids to sell products they make themselves. Examples of products that will be accepted for the Kids Market will include baked goods and hand crafts. These kids will sell items that they had a hand in making. We are open to kids of all ages. We want to make this a fun experience for everyone! By being a part of the Tampa Bay Markets Hyde Park Village Kids Market, the kids will be able to work on their selling skills as an actual vendor during the market. We want this to be a positive experience for the kids! It is meant to inspire kids and foster that entrepreneurial drive.

And if you are not a kids vendor but have a service or product that might fit within our Kids Market, please let us know! We are excited to be launching such a promising event for kids to be a part of! Join us the first Sunday of each month from 10am-3pm in Hyde Park Village and don't forget to stop by the Kids Market!

This event is sponsored and supported by the ladies of Working Women of Tampa Bay.

For more information, please contact Marisa Langford, owner of Fit Kids Playground at: marisalangford@msn.com.
Click here to view and print the vendor application.